Upcoming Events
Primary tabs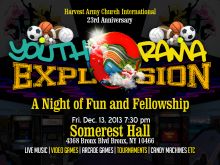 Come join us on a night of fun and fellowship as we celebrate our 23rd Anniversary Youthorama. There will be live music, video games, arcade games, tournaments, bounce house and more. The admission is free, so feel free to bring your children for a night of fun and games.
Fri, 12/13/2013 7:30pm EST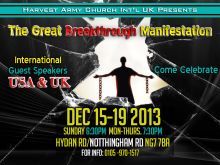 Come join us in The Great Breakthrough Manifestation. Right here in the United Kingdom. Come be Celebrate with us as we feature International Guest speakers from the USA and UK alike.
Sun, 12/15/2013 7:30pm EST
The Great Gathering in New York City.
Wed, 12/25/2013 7:30pm EST
Thu, 12/26/2013 7:30pm EST
Fri, 12/27/2013 7:30pm EST
Sun, 12/29/2013 7:30pm EST
Mon, 12/30/2013 7:30pm EST
Tue, 12/31/2013 7:30pm EST
Wed, 1/1/2014 7:30pm EST
Thu, 1/2/2014 7:30pm EST
Fri, 1/3/2014 7:30pm EST
Sun, 1/5/2014 7:30pm EST
Mon, 1/6/2014 7:30pm EST
Tue, 1/7/2014 7:30pm EST
Wed, 1/8/2014 7:30pm EST
Thu, 1/9/2014 7:30pm EST
Fri, 1/10/2014 7:30pm EST
Sun, 1/12/2014 7:30pm EST
Mon, 1/13/2014 7:30pm EST
Tue, 1/14/2014 7:30pm EST
Wed, 1/15/2014 7:30pm EST
Thu, 1/16/2014 7:30pm EST
Fri, 1/17/2014 7:30pm EST
Sun, 1/19/2014 7:30pm EST