Upcoming Events
Primary tabs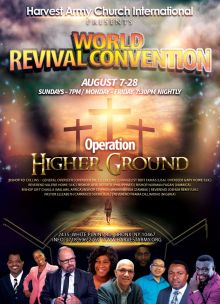 Event: WORLD REVIVAL CONVENTION
Theme: 'Operation Higher Ground'
Sun, 8/7/2016 7:00pm EDT
Mon, 8/8/2016 7:00pm EDT
Tue, 8/9/2016 7:00pm EDT
Wed, 8/10/2016 7:00pm EDT
Thu, 8/11/2016 7:00pm EDT
Fri, 8/12/2016 7:00pm EDT
Sun, 8/14/2016 7:00pm EDT
Mon, 8/15/2016 7:00pm EDT
Tue, 8/16/2016 7:00pm EDT
Wed, 8/17/2016 7:00pm EDT
Thu, 8/18/2016 7:00pm EDT
Fri, 8/19/2016 7:00pm EDT
Sun, 8/21/2016 7:00pm EDT
Mon, 8/22/2016 7:00pm EDT
Tue, 8/23/2016 7:00pm EDT
Wed, 8/24/2016 7:00pm EDT
Thu, 8/25/2016 7:00pm EDT
Fri, 8/26/2016 7:00pm EDT
Sun, 8/28/2016 7:00pm EDT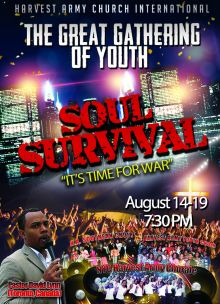 Join us for "The Great Gathering of Youth" on AUGUST 14-19, 2016!!!

You cannot afford to miss this power packed week as we encourage, empower and prepare the youth to survive in these last and evil days with the theme "SOUL SURVIVAL."

Our guest speaker will be a renowned Pastor and radical street evangelist, Rev. David J. Lynn from Toronto, Canada along with many dynamics choirs, singers and poets from across the world.
The devil seeks to destroy the youth but we will equip ourselves, we will fight back, we will prevail, because it's war time!!!
Sun, 8/14/2016 7:30pm EDT